News
08/13/2019
20-Port Gigabit Managed Ethernet Switches from Antaira Technologies (LMP-LMX-2004G-SFP Series)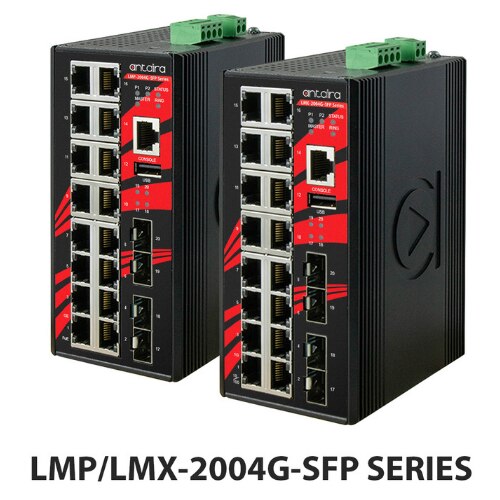 Antaira Technologies is a global leading developer and manufacturer of industrial networking devices and communication solutions for harsh environment applications and is proud to announce the expansion of its industrial networking infrastructure family with the introduction of the LMP-2004G-SFP and LMX-2004G-SFP Series.

Antaira Technologies' LMP-2004G-SFP and LMX-2004G-SFP series are industrial-grade equipment that is Ethernet ready to fulfill various markets' edge-level networking applications in harsh and outdoor environments, such as manufacturing automation, security surveillance, power/utility, water wastewater treatment plants, oil/gas/mining, and transportation. These devices support high density Ethernet port connectivity, wide bandwidth, long distance data transmission, and have a superb reliability factor.

In Intelligent Transportation Systems (ITS), roadside intersections require north/south and east/west fiber connectivity. The LMX-2004G-SFP Series is ideal for this application. Often times there may be older 100mbps fiber links in place that need more modern 1000mbps links. The LMX-2004G-SFP devices can support the existing link with 100mbps SFPs installed and will run at 1000mpbs speeds when faster SFPs are placed at both ends of the fiber. This makes migrating from a 100mbps fiber back bone to 1000mbps possible by not changing out all the switches at one time.

Some applications require daisy chaining switches together to achieve a cost effective solution. When each of the industrial Ethernet switches in the chain has a high-density of ports like Antaira's LMP-2004G-SFP Series, the aggregated bandwidth may exceed a standard 1000mbps fiber port. Link Aggregation Configuration Protocol (LACP), sometimes called port trunking, can help with this issue by combining two one gig ports to gain effectively a two-gig pipe. If the switches are being daisy-chained and there is a need for LACP, then the applications will require more than two SFP ports. Fortunately, the LMP-2004G-SFP has four SFP ports which makes it a great fit for this type of application.

Fiber interfaces give the ability to extend a network out past traditional buildings, across campuses, and even towns. At the same time, it is difficult to maintain the networking equipment. Managed switches are critical in controlling and predicting failures on the network as well as determining when and where issues reside. Redundancy can be built into the network using Spanning Tree or other redundant features available with Antaira's managed switches.


About Antaira Technologies:
Antaira Technologies is a global leading developer and manufacturer that provides high-quality industrial networking and communication product solutions. Since 2005, Antaira has offered a full spectrum of product lines that feature reliable Ethernet infrastructures, extended temperature tolerance, and rugged enclosure designs. Our product lines range from industrial Ethernet switches, industrial wireless devices, Ethernet media converters, and serial communication devices. Our vast professional experience allows us to deploy a wide array of products worldwide in mission-critical applications across various markets, such as, automation, transportation, security, oil & gas, power/utility, and medical.