Antaira Hardened Campus Video Surveillance

Industry:

Security
Location:

Utah
BACKGROUND
A school campus in a city in Utah required a PoE industrial switch for a security application that provided power to the PoE security cameras inside buildings, as well as within the school grounds. Monitoring for unauthorized visitors or suspicious activity is vital to keeping the pupils safe from preventable threats. This system must be fail safe and hardened for outdoor conditions as well as in the event of a natural disaster.
THE CHALLENGE
The challenge for this project application is to install hardened industrial switches that run even when there is a power failure. Should a heavy storm, downed power line or another natural disaster affect the power supply to the school, the safety of the students and school staff would be consistent, with the installed security cameras power being unaffected. The continuity of security cannot be compromised in this situation.


THE SOLUTION
Antaira's low-voltage PoE industrial switches, the LNP-0500-24-T and the LNP-0800-60-24-T were used to complete this application. Although these industrial switches are industrial-grade and were not necessarily required for this environment, Antaira was able to provide the right specs needed. These Antaira industrial switches are capable of being powered with an input of 12-36VDC to provide the necessary 48V out of the RJ45 port in order to power the security cameras. This made it easier to install an uninterruptible power supply for their Video Surveillance system; keeping staff and students safe in an emergency.


ANTAIRA'S PRODUCT SOLUTION
LNP-0500-24-T
5-Port Industrial PoE+ Unmanaged Ethernet Switch
4-Port IEEE 802.3at compliant PoE+ Function with 30W/Port
1-Port 10/100Tx Fast Ethernet
Surge Protection: 2,000 VDC support
Redundant Power Input Design - 12~36VDC
IP30 Rugged Aluminum Case Design
Temperature Range: -40°C to 75°C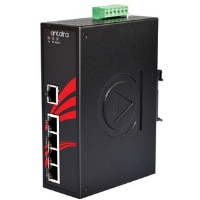 LNP-0800-60-24-T
8-Port Industrial PoE+/4PPoE Unmanaged Ethernet Switch
4-Port IEEE 802.3at compliant PoE+ Function with 30W/Port
4-Port IEEE 802.3bt compliant 4PPoEP (60W/Port)
Surge Protection: 2,000 VDC support
Redundant Power Input Design - 12~36VDC
IP30 Rugged Aluminum Case Design
Temperature Range: -40°C to 75°C