Serial Communication
---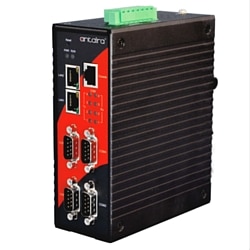 Antaira offers a full range of serial to Ethernet industrial device servers that transmit RS232, RS422, or RS485 data across an IP network.
Antaira's serial media converters provide serial to serial and serial to fiber solutions.
Antaira's multiport serial cards easily expand RS232, RS422 or RS485 serial device connections allowing you to control peripheral devices from your PC or server.
Antaira's industrial serial to wireless devices easily allows an RS232 or RS422/485 device to communicate wirelessly to the network.
Antaira's industrial Fieldbus gateways allow for easy communication language changes. Typically used to convert a older communication language to a newer more widely accepted one. For example converting legacy MODBUS RTU/ASCII to MODBUS TCP.
Antaira offers a broad range of industrial USB to serial converters and industrial USB hub solutions.