Antaira's Industrial PoE Injector Honored
as Security Today's New Product of The Year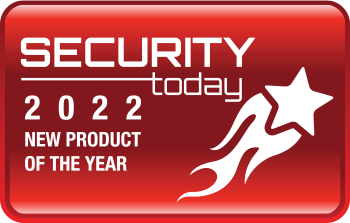 BREA, CA – SEPTEMBER 08, 2022 – – Antaira Technologies has been recognized by Security Today magazine and securitytoday.com as the winner of its 2022 New Product of the Year Award in the Video Surveillance Hardware & Accessories category for the company's INJ-C201G-bt-H-100-24-T Gigabit PoE++ injector.
"The Security Today New Product of the Year Award is a prestigious benchmark of technical excellence for the industry's newest, most innovative and ground-breaking products," said Carl Stelling, Vice President, Antaira Technologies, LLC. "We are thrilled to be recognized with this honor. Our newest industrial PoE Injector is another example of where Antaira spotted a gap in the surveillance market and created the perfect device to fill it."
The Security Today New Product of the Year award "honors the outstanding product development achievements of security equipment manufacturers whose products are considered to be particularly noteworthy in their ability to improve security." Now in its 14th year, the independently juried contest honors the best-of-the-best in 47 product award categories.
Product Description
Manufacturers of PTZ cameras are adding various features, such as wipers, IR illuminators, white light, heaters, etc., all of which has created a need for an industrial-rated device to power them when used in outdoor environments.
Antaira developed the INJ-C201G-bt-H-100-24-T, a Gigabit IEEE 802.3bt PoE injector that connects to 9VDC to power up to 60W; 12 volts of DC power with the ability to power up to 90W; or when connected to a power input of 24~55VDC to power up to 100W.
This injector is an industrial-grade device with extended operating temperature -40°C to 75°C (-40°F~167°F). Its rugged design and fan-less operation is ideal for field cabinet installation, and includes flexible options for DIN-rail or wall-mount installation. INJ-C201G-bt-H-100-24-T includes a five-year warranty, is TAA and NDAA Compliant.
Affordable and versatile, the INJ-C201G-bt-H-100-24-T is a plug-and-play solution for transmitting high-speed data and outputting 90W from a non-PoE Ethernet switch to powered devices such as outdoor IP PTZ cameras with a heater, Smart LED lighting, or Wireless Access Points. Like other Antaira industrial-grade PoE injectors, the INJ-C201G-bt-H-100-24-T eliminates requirements of locating devices close to power outlets, while protecting the customer's investment in legacy, non-PoE switches. Environmentally hardened, it will operate over a temperature range of -40°C to 75°C (-40°F to 167°F).
Application: Surveillance Vehicles
High-power PoE applications that require 802.3bt (up to 90 Watts) send data and power (57VDC) over an Ethernet cable to supply data and power to devices, such as PTZ cameras or wireless transmitters. Automobile applications with only 12 volts of DC power available can use Antaira's low voltage PoE solutions to boost the 12VDC to the required 57VDC.
Application: Remote Solar
Solar cells produce a wide range of voltage based on how much sun is hitting the solar panel. The power is collected by a regulator which typically controls the voltage and uses it to charge a bank of batteries. In many cases, 24VDC batteries are used for this purpose. In high-power PoE 802.3bt (up to 100 Watts) applications, Antaira's low voltage PoE solutions boost power from 24VDC to the required 57VDC for a streamlined simple solution.
Application: Perimeter Surveillance
In perimeter surveillance, AC power is typically sourced from a light post or other existing power sources. Outdoor communications cabinets provide AC power to a DC-to-AC power supply sold as an accessory with the injector. This injector then provides up to 100W to the connected camera.
Antaira continues to develop solutions that fit unique installations and applications as industry needs change. Look to Antaira for all your industrial networking solutions.