News
10/04/2021
Antaira Wins a 2021 Security Solutions Award for Security Monitoring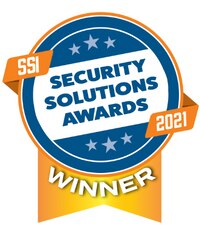 BREA, CA – October 04, 2021 – – Antaira Technologies was announced as a winner of the 2021 Security Sales & Integration Security Solutions Awards for Security Monitoring during the Global Security Exchange (GSX). Security Sales & Integration (SSI) has been the security industry's leading technology business since 1979. This award that SSI has given Antaira is not the typical product award but rather something more intriguing to the security industry, as all product submissions had to actually have the product deployed in the field within the last year.

"Manufacturers claim their products are the 'best,' 'first of its kind,' 'revolutionary,' 'game-changing' and other such hyperbole. However, the real test ― especially when dealing in the sometimes life or death realm of security and safety ― is how those solutions truly meet the needs of both the security integrator and their customer. That is the true litmus test and why SSI founded the Security Solutions Awards," says SSI Associate Publisher Scott Goldfine.

The 2021 Security Solutions Awards were chosen by a panel of judges (independently) and were evaluated on:
• Application
• Type of Solution
• Innovation
• Functionality
• Value
• Ease of Deployment
• Advantages Vs. Similar Solutions
• Integrator Benefits and Satisfaction
• End-User Benefits and Satisfaction

A case study application was submitted by Antaira for drone perimeter surveillance at an airport showcasing Antaira's industrial Gigabit managed Ethernet switch – the LMX-1202G-SFP-T. Here is a brief summary of the case study.

Antaira Technologies partnered with a leading Utah-based airspace security and defense company to help implement a digital 3D protective shield over a restricted airfield. Special software was developed by this security company to create a blanket of protection over specified airspace, which was implemented with pillars equipped with outdoor surveillance cameras, sensors, and Antaira's industrial switches. Antaira provided them with varying sizes of industrial switches with ascending port counts until we ended up with a 12-port Ethernet switch that was perfect for the application.

Antaira's managed Ethernet switch was installed inside multiple pillars which permitted for an ERPS ring to be created. The ring feature allowed the industrial switches to communicate with each other, the other hardware on the pillars, and the security command center.
Click here to read the full version of Antaira's case study.
Click here to view online feature with SSI.
ANTAIRA'S WINNING PRODUCT
LMX-1202G-SFP-T
12-Port Industrial Gigabit Light Layer 3 Managed Ethernet Switch
8*10/100/1000Tx (30W of PSE per port)
Redundant Power Input Design – 12~48VDC
Housing: Metal IP 30 Rated; DIN-Rail and Wall Mount Support
Supports QoS (IEEE802.1p) and CoS/ToS
Temperature Range: -40°C to 75°C