Antaira Gigabit Fiber-to-Ethernet Media Converters are Ideal for Industrial Networks that Require Long Distance, High Bandwidth Connectivity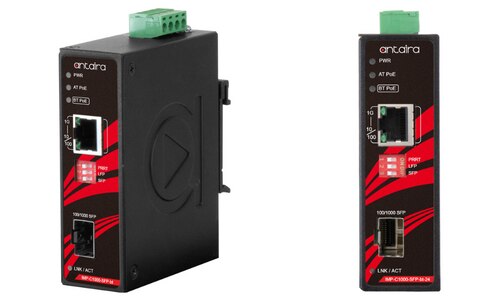 New Media Converters Certified by Florida Department of Transportation's APL
BREA, CA, JULY 28, 2022 -- Antaira Technologies, an innovator in industrial networking connectivity, today introduced its IMP-C1000-SFP-bt-T and IMP-C1000-SFP-bt-24-T Gigabit single-port media converters with IEEE 802.3bt 90W PoE++. Both converters give network administrators the means to interconnect long-distance fiber networks to copper-based 10/100/1000Base-T Ethernet with minimum cost and complexity. Underscoring the converters' quality and value, the Florida Department of Transportation (FDOT) has certified both models for its Approved Products List (APL) after validating their specifications met FDOT requirements, standards, and criteria for listing on the APL.
Both the IMP-C1000-SFP-bt-T and IMP-C1000-SFP-bt-24-T serve as Power Sourcing Devices (PSE), to deliver an impressive 90W to PoE-complaint devices, and therefore enabling the converters to accommodate power-hungry PTZ IP cameras and WAPs. Importantly, both converters extend LAN cabling distances using SFPs selectable to meet application requirements for the fiber network. SFP-S120-T allows 120km (74 mile) fiber networks, while also enhancing signal immunity to electromagnetic emissions, and elevating network bandwidth capacity to Gigabit speed through the single dual-rate SFP slot. Identical in design, the IMP-C1000-SFP-bt-24-T differs from the IMP-C1000-SFP-bt-T in that it features 12~55VDC power input, while the IMP-C1000-SFP-bt-T supports 48-55VDC.
Featuring an IP30 rated metal enclosure and an extended operating temperature range of -40° to 75° C (-40 to 167° F), the IMP-C1000-SFP-bt-24-T and IMP-C1000-SFP-bt-T are ideal for factory automation, security, Intelligent Transportation Systems, power/utility, water wastewater treatment plants, and other extreme industrial or ambient weather environments. Although rugged, the devices are exceptionally compact so that they conserve space on a DIN-Rail inside the communications cabinet.
The converters are two of the first Antaira devices to offer the company's patented Power Remote Reset Technology (PRRT). The PRRT function allows the user to reboot the media converter's PoE port to power cycle the remote unresponsive powered device (PD) from the nearby switch. PRRT is designed to save time from allowing the user to reboot an edge device without needing to travel to the remote site.
Click here to download the Antaira FDOT Approved APL products flyer.