Antaira's Managed Low-Port-Count Version 2 (V2) Hardware Announcement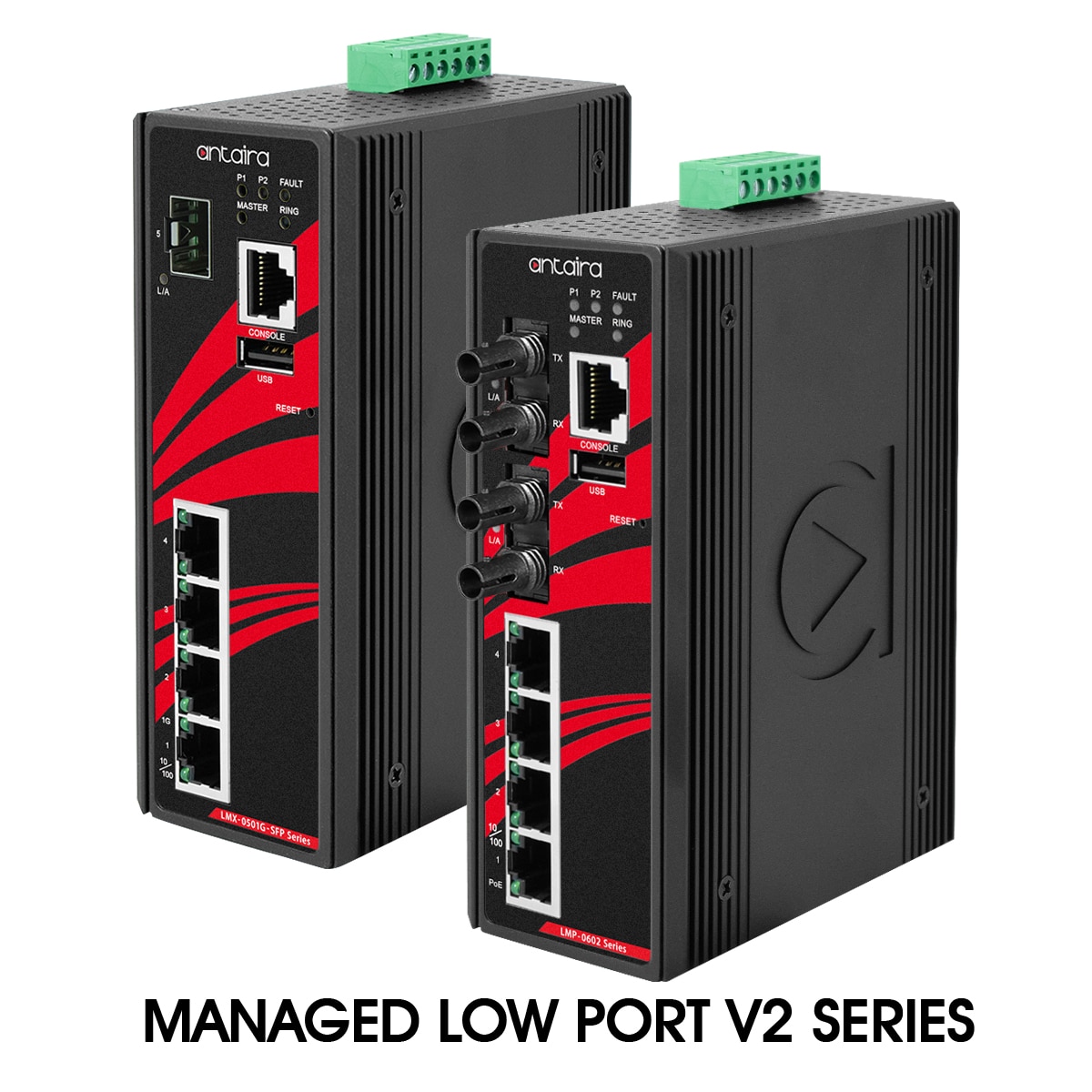 Antaira Technologies is a global leading developer and manufacturer of industrial networking devices and communication solutions for harsh environment applications and is proud to announce a new hardware update to the small port count managed Ethernet switches. The new hardware update will be known as "V2". The affected switches are listed below:
"xx" stands as a placeholder for all of the following different connector types available on specific models: M for multi-mode SC connector; S3 for single-mode 30km SC connector; ST-M for multi-mode ST connector; ST-S3 for single-mode 30 km ST connector; call for other variations in fiber type.


Antaira Technologies' low-port-count managed Ethernet switches are industrial-grade devices that are Ethernet ready to fulfill various markets' edge-level networking applications in harsh and outdoor environments, such as manufacturing automation, security surveillance, power/utility, water wastewater treatment plants, oil/gas/mining, and transportation. These devices support Ethernet port connectivity, long distance data transmission, and have a superb reliability factor.
The new, version two (V2) hardware delivers more horsepower under the hood allowing an entirely new operating system to be installed. With the new operating system comes a long list of new features which brings these smaller switches up to the same feature set as the larger port count Antaira Ethernet switches. Two of the most new and important key features are multi-ring Ethernet Ring Protection Switching (ERPS) and access control lists.
ERPS is an open standard used for creating redundant link rings. Ring technology helps prevent system outages by creating multiple paths allowing data to make it to its destination even when a link has failed. Using an open standard for the ring allows a customer to not be trapped by a customer's proprietary protocol. Allowing a mixture of manufacturers' products to be used in an application can also create the best solution.
Network security has become increasingly important and while no one feature can assure a secure network, layers of features provide the best security. Access control lists make sure data can get to where it needs to go but all other traffic is blocked. Minimizing how data traffic flows on a network is an important step to securing any network. The new access control lists available with the new version two hardware will allow an administrator to control this traffic and begin to secure the network.
About Antaira Technologies:
Antaira is a leading developer and manufacturer that provides high-quality industrial networking and communication product solutions. Since 2005, Antaira has offered a full spectrum of industrial networking products that feature reliable Ethernet infrastructures, extended temperature tolerance, and rugged enclosure designs. This includes industrial Ethernet switches, industrial wireless devices, Ethernet media converters, and serial communication devices. Our vast professional experience allows us to deploy a wide array of industrial networking equipment worldwide in mission-critical applications across various markets, such as automation, transportation, security, oil and gas, power/utility, and medical