News
08/06/2019
Antaira Launches 18-Port Gigabit Ethernet Managed PoE+ & Non-PoE Switches (LMP-LMX-1802G Series)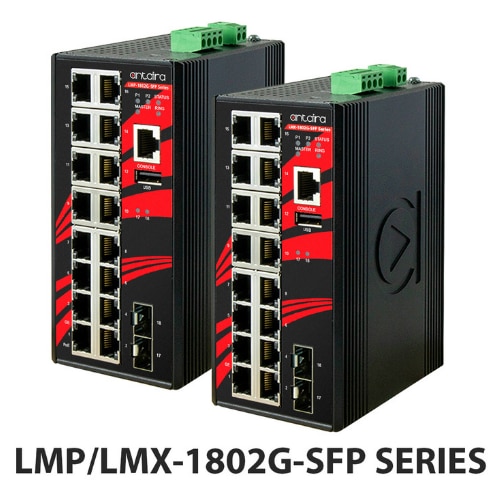 Antaira Technologies is a global leading developer and manufacturer of industrial networking devices and communication solutions for harsh environment applications and is proud to announce the expansion of its industrial networking infrastructure family with the introduction of the LMP-1802G-SFP and LMX-1802G-SFP Series.

Antaira's LMP-1802G-SFP and LMX-1802G-SFP series are industrial-grade equipment that is Ethernet ready to fulfill various markets' edge-level networking applications in harsh and outdoor environments, such as manufacturing automation, security surveillance, power/utility, water wastewater treatment plants, oil/gas/mining, and transportation. These devices support high density Ethernet port connectivity, wide bandwidth, long distance data transmission, and have a superb reliability factor.

The LMX-1802G-SFP Series is an ideal choice for campus ring solutions with its two fiber optic ports supporting an open standard ring technology (ERPS). There are many proprietary ring technologies available but using an open standard like ERPS means that it is possible to have equipment from different manufacturers working together in the ring. For example, campuses have networking rings consisting of hardened and industrial Ethernet switches for outdoor environments that require a wide temperature-rated device. These outdoor devices are able to communicate and send critical information back to an enterprise switch at a datacenter.

Antaira's LMP-1802G-SFP Seriescan not only provide a large number of PoE ports (30 Watts) for high density security applications, but also fiber optic interfaces for long range connectivity (1 meter to 100 KM) that is 3 feet to over 60 miles. The SFP port will not only allow connectivity beyond the 100 meter/300-foot limitation of copper cable but also permits connectivity through areas where electromagnetic interference may cause issues such as on a factory floor.

The Antaira management software on these industrial Ethernet switches helps monitor, react, and troubleshoot applications to reduce the cost of maintenance and downtime. Features such as SNMP Traps, Syslog, and port mirroring can be priceless when maintaining a system and reducing issues causing outages.


About Antaira Technologies:
Antaira Technologies is a global leading developer and manufacturer that provides high-quality industrial networking and communication product solutions. Since 2005, Antaira has offered a full spectrum of product lines that feature reliable Ethernet infrastructures, extended temperature tolerance, and rugged enclosure designs. Our product lines range from industrial Ethernet switches, industrial wireless devices, Ethernet media converters, and serial communication devices. Our vast professional experience allows us to deploy a wide array of products worldwide in mission-critical applications across various markets, such as, automation, transportation, security, oil & gas, power/utility, and medical.