News
07/30/2019
Antaira Launches High Port Count Gigabit Managed Non-PoE & PoE+ Switches (LMP-LMX-1600G Series)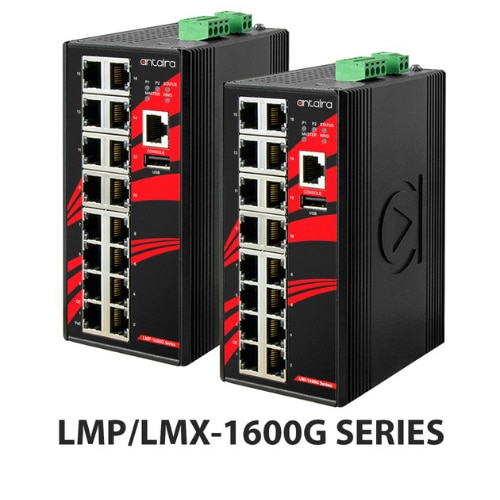 Antaira Technologies is a global leading developer and manufacturer of industrial networking devices and communication solutions for harsh environment applications and is proud to announce the expansion of its industrial networking infrastructure family with the introduction of the LMP-1600G and LMX-1600G Series.

Antaira Technologies' LMP-1600G and LMX-1600G series are industrial-grade equipment that is Ethernet ready to fulfill various markets' edge-level networking applications in harsh and outdoor environments, such as manufacturing automation, security surveillance, power/utility, water wastewater treatment plants, oil/gas/mining, and transportation. These devices support high density Ethernet port connectivity, wide bandwidth, long distance data transmission, and have a superb reliability factor.

The LMX-1600G Series is a great solution when needing to increase the number of port counts in automation applications (UL Pending – 2020). The LMX-1600G series provides 16 one gig ports in a relatively small form factor providing a great deal of connectivity using only a fraction of the physical space required compared to the competition. This is a key feature when used in NEMA enclosures or any application with size constraints.

The LMP-1600G Series, like the LMX-1600G series, also provides 16 one gig ports for high port density applications but also provides PoE power on all 16 ports. This configuration is ideal for surveillance applications where high density PoE cameras are required in a small area. The wide temperature rating and rugged enclosure design allows this device series to be installed in environments without sacrificing the longevity of the industrial switch.

Both the LMX-1600G series and the LMP-1600G series are managed devices. Besides all the normal tools a managed Ethernet switch provides, like port monitoring, alerts, and troubleshooting tools, these switches also provide multicast suppression (IGMP). This feature is of key importance in both automation and surveillance applications, keeping the multicast traffic going only where it is required and not being broadcasted across the entire network.


About Antaira Technologies:
Antaira Technologies is a global leading developer and manufacturer that provides high-quality industrial networking and communication product solutions. Since 2005, Antaira has offered a full spectrum of product lines that feature reliable Ethernet infrastructures, extended temperature tolerance, and rugged enclosure designs. Our product lines range from industrial Ethernet switches, industrial wireless devices, Ethernet media converters, and serial communication devices. Our vast professional experience allows us to deploy a wide array of products worldwide in mission-critical applications across various markets, such as, automation, transportation, security, oil & gas, power/utility, and medical.