Industrial Ethernet Switches Power Ohio's Turnpike System

Industry:

Transportation
Location:

Ohio, USA
BACKGROUND
Antaira Technologies has partnered with a business process outsourcing company located in New Jersey, who focuses on helping organizations work efficiently to drive results. This company has expertise across a range of diverse industries, yet, has focused specifically on transportation. Some examples of the company's transportation features include Electronic Toll Collection Roadside System, Tolling Insights Solutions, Vehicle Passenger Detection System, and Automated License Plate Recognition.
THE CHALLENGE
With constant expansions and construction on cities and roads, these areas are left to face problems of increased traffic and roadway congestion. Industrial Networking Equipment is needed to create a traffic management system that can be configurable with business rules and parameter-driven functionality to help manage traffic congestion. In Ohio, Turnpikes are on a rise as it could provide a great deal of data to manage traffic while also accurately charging payments based on face and license plate recognition. However, these Turnpikes need to overcome challenges of accessing real-time data transmission, harsh weather conditions, multiple communication mediums, and high MTBF network equipment to ensure reliability. Antaira Technologies has the solution to improve Ohio's turnpikes.

THE SOLUTION
Antaira's Industrial Ethernet Switch Series are just a few of the many Antaira products that help provide the solution to help improve the efficiency of Ohio's turnpikes. The LNX-0501G-SFP-T, a 5-Port Industrial Unmanaged Ethernet Switch, is the most used product, making it ideal for applications that demand high bandwidth and long distance communication such as Ohio's Turnpikes. Once the turnpike system recognizes the license plate information, this switch is used to relay this information back to their system on the other end to collect the data. The LNX-800AG-T comes into play with its built-in relay warning function that alerts turnpike operators when power failures occur. The LNX-0601G-SFP-T series provides high EFT and ESD protection to prevent any unregulated voltage. It also has a built-in advanced broadcast storm protection feature that will block any data packet that exceeds a defined limit when it arrives at a port, until the rate decreases to a lower threshold. A quantity of 128 LNX-500AG-T products were used in the system to provide basic connectivity with maximum performance connecting up to 10x faster than fast ethernet switches to help with real-time data transmission. All of these products have extended operating temperatures that support -40°C to 75°C, providing a solution for Ohio's unpredictable weather conditions. With the incorporation of Antaira's products into the Ohio Turnpike system, it has been successful in managing traffic and collecting payments needed.

ANTAIRA'S PRODUCT SOLUTION
LNX-0501G-SFP-T
5-Port Industrial Unmanaged Ethernet Switch,
w/4*10/100/1000Tx + 1*100/1000 SFP Slot
Network Broadcast Storm Protection
4*10/100/1000Tx Fast Ethernet Ports & 1*100/1000 SFP Slot
Supports Auto MDI/MDI-X Function
Surge Protection: 3,000 VDC Support
Operating Temperature Range - EOT: -40° to 75° C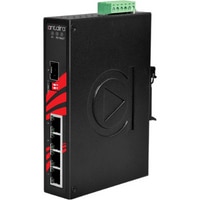 LNX-800AG-T
8-Port Industrial Gigabit Unmanaged Ethernet Switch,
w/8*10/100/1000Tx
Supports 8-Port 10/100/1000Tx RJ45 Fast Ethernet
Supports Auto MDI/MDI-X Function
Surge Protection: 3,000 VDC Support
ESD Protection: 6,000 VDC Support
Operating Temperature Range - EOT: -40°C to 75°C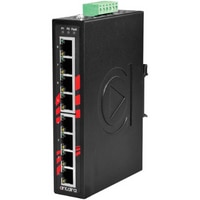 LNX-0601G-SFP-T
6-Port Industrial Unmanaged Ethernet Switch,
w/5*10/100/1000Tx + 1*100/1000 SFP Slot
5-Ports 10/100/1000 Tx Fast Ethernet &1-Port SFP
Supports Auto MDI/MDI-X Function
Surge (EFT) Protection Support
Ethernet ESD Protection Support
Operating Temperature Range - EOT: -40°C to 75°C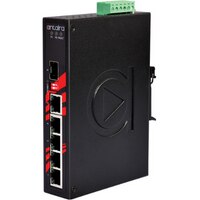 LNX-500AG-T
5-Port 10/100/1000T Port Industrial Ethernet Switch
RJ-45 Port Supports Auto MDI/MDI-X Function
136 Kbits Memory Buffer
8K MAC Address Table
Supports 4000 VDC Ethernet ESD Protection
Extended Operating Temperature -40° ~ 75° C